Are you losing customers because you can not offer them SEO services? Do you find it difficult to manage the complex SEO tasks your potential consumers require? White label SEO is the simplest solution to all of these problems.
White Label SEO services are ready to undertake all the heavy lifting for you and make plans with you to implement SEO strategies for your client's successful journey toward the top of the SERPs rankings.
Reselling SEO services will help you focus on things that matter, scale your business effectively, and get the tools you need to give your customers the best service consistently. This blog is a detailed white label SEO guide for everything you need to know about white label SEO services for your business.
What is White Label SEO?
White label SEO is outsourced SEO services at an affordable price, which will assist you in increasing your profit. The SEO providers will generally have the resources to provide quality services, so if you hire one, you won't have to spend money or time developing a product or service.
It also offers you SEO initiatives, paid search programs, and online marketing campaigns. In addition to these services and programs, you also get the benefit of gaining knowledge from their expertise in the field of content creation, analysis, and reports. Even though another company is working to make all these things happen, the brand name will still be of your company.
For instance, consider that you are a marketing firm with a core competency in pay-per-click strategies. One of your clients wants to increase their engagement in digital marketing. Perhaps the client has just been to a meeting where they were influenced by other business owners talking about how effective their search engine optimisation campaign was. In such cases, you can provide them with these services.
Benefits Of White Label SEO Agency
Outsourcing SEO services can be a huge help in growing your business's digital marketing strategy at a time when having a digital presence is more important than ever. Below mentioned are the following benefits of white label SEO services:
Focus on what you do best
Every firm has its strengths and limitations. But, something you have to ensure you do is make up for your limitations. In simple terms, you will have to find ways to still offer everything a customer wants even if your firm cannot do it.
Hence, if you have a company related to digital marketing, you can utilise white label SEO services. This not only lets you handle SEO for clients but also improves your brand image. You can better concentrate on the services you do best and expand where your expertise lies. 
Cost-effective
Equipping your firm with the right people, assets, and techniques is essential to get your agency off the ground. While you can start from scratch, doing so will take a long time. Not to mention a substantial investment in running expenses. 
Consider how much you'll likely spend if you try to develop your own tools, recruit a team internally, and expand your resource pool. You will have to balance that with the income you're making from customers and the amount of work you're managing.
If you want to expand and save simultaneously, one of your best options is to take the white label path. This reduces the worries of creating new tactics and mentoring your in-house team. This enables you to allocate your finances to your marketing initiatives and other elements of your organisation that need improvements.
Seamless customised content
White label SEO companies produce customised content that appeals to your target audience, assisting you in raising the visibility and rankings of your clients online.
White label SEO companies also have access to advanced keywords and can use these to frame meta descriptions, title tags, and other content for your customers. They can also assist you with on-page optimisation, backlinking, and other SEO approaches traditionally reserved for larger marketing firms.
Specialized SEO Tools and Technology
Not only do the staff members at reputable white label agencies have a diverse knowledge of the ins and outs of SEO, but they also, in most scenarios, have access to the most up-to-date and best SEO technologies and tools. 
They have the money to invest thousands of dollars annually in high-performance equipment. They can audit your website, examine backlinks, seek profitable keywords, and improve the on-page content. You are getting access to high-quality tools at small business prices.
With advanced tools at their fingertips, they could provide you and your customers with a higher level of service. These better services, in turn, will result in better outcomes than what you could offer if you were managing all SEO-related tasks on your own. 
Run Effective Marketing Campaigns
Reselling enables you to get more mileage from your initiatives. Did your in-house content marketing strategy produce a fantastic piece of content? You can use the virtual marketing resources of a white label agency to advertise it aggressively. 
Outsourcing SEO services will offer your content the boost to rank on top in organic results. This sudden spike in ranking will lead to notably enhanced traffic, significant improvements, and conversion rates. 
If your site is optimised for high intent and common search keywords, it will attract many visitors and quality leads.
Saves Time
By outsourcing your SEO work, you and your staff would save significant time. For example, backlinks are highly effective yet infamously difficult to do.  Hiring link development professionals to handle this process will provide you more time for other activities while also improving the overall results more quickly.
Even if you don't already have any SEO experts on board, employing a white label digital marketing team will save you time and the hassle of training or hiring new staff. 
Leverages the power of social media
Social media is an efficient marketing tool. It allows you to create brand awareness, educate consumers, increase engagement, boost conversions and run campaigns. It makes an ideal use case for white labeling.
Just posting social media creatives will not get you more followers, ROI, or high-level engagement. You should try white label SEO. It will assist you in measuring brand sentiment and solicit social conversations and brand recognition on all major platforms.
White label agencies have qualified employees and premium access to expensive tools that let you use social media to expand your business objective. Additionally, white labeling can help you save time and money on hiring, training, tool purchases, and research.
Increase customer satisfaction
Your agencies' reputation and brand image could be affected if they lack SEO expertise, particularly when it comes to reporting the results of SEO campaigns. Why do you want to risk your valuable reputation with an in-house SEO staff without impressive results? It is wise for a business owner to consider reselling SEO because you can easily decide and set SEO packages and pricing, receive work from outsourced SEO specialists, and meet customer needs.
Reporting is one of the key components to ensuring the satisfaction of all your clients, whether they are long-term customers or new SEO clients. White Label SEO can define all the reporting dashboards from ranking position on every famous keyword, target particular demographic, Google Analytics interpretation and more.
The list of SEO white label agencies does not end here. Read also: https://websitevala.in/benefits-of-using-white-label-seo-services/
How should you find an SEO White label agency?
With so many service providers and digital marketing agencies offering SEO services, you should choose a White Label SEO Agency that possesses the following qualities:
Great Reviews
Word-of-mouth is one of the most used marketing tactics ever used. Today, it exists in the form of online reviews, the generous comments of customers that assist other consumers in learning more about a firm's services or products.
Online reviews can be helpful when choosing a white label SEO service. You can easily determine how a firm functions by viewing what its clients say about them. Happy clients mean the best service and vice versa.
Explore the comments left behind by each provider's former clients, and you'll get a feeling of how good they are at what they do.
Check Provider's Website Quality
This is the easiest method for evaluating an SEO provider's quality of service: visiting their website. It makes complete sense that a first-rate white label SEO company will have a flawlessly optimised service site to display what they can do. 
Pay attention to the site's design and how quickly the pages load. Assess how simple it is to use because this is probably what you'll offer your clients. 
Check how quickly it can be found on services such as Google search and its ranked keywords. You can know a lot about the firm's SEO abilities simply by evaluating their website's visibility online and ease of use.
Excellent Customer Service
Hiring a white label SEO service that provides a hands-on approach to clients' queries benefits your business. The last thing you want is customers who are not getting technical assistance or answers soon enough because this makes them look for other competitors. 
Maintaining a positive reputation requires excellent customer service. It would be ideal if you had a white label SEO provider available to meet your clients regularly during the process and one that can send specialists to their location to handle technical difficulties as soon as they are reported.
Your clients are your business's valuable asset, and you require a white label SEO service that understands this.
Excellent Examples
Even if an SEO reseller ticks all the correct boxes, you shouldn't hire them without first requesting samples of their prior work. Any decent white label online marketing partner won't have any objection to this and will, in fact, take the chance to show you some of their quality projects to win you over. 
Avoid any white label SEO companies that are hesitant to provide samples because this is quite unprofessional and a sign that they won't be able to satisfy their clients. Also, ask the agency to show you their link-building and SEO strategy for customers, along with the results yielded. 
You want to ensure that the firm you are going to conduct a lot of SEO business with possibly is credible and can back up its claims. You should not fall into the trap of businesses that claim to be the best at SEO but eventually end up disappointing you.
What are the Challenges of Outsourcing Your SEO?
While there are numerous advantages to outsourcing your SEO, we recognise that there may be some challenges along the way because no process is perfect. Following are some of the challenges of Outsourcing SEO:
Communication issues
With a huge in-house marketing team, you can address any issues as they arise. Article not optimised? Send it to the SEO team. Unhappy with a blog synopsis? Edit it. It's that simple.
In comparison, certain agencies won't always communicate frequently. If you brief something, you might only see the final output rather than several drafts along the way. If you are disappointed with the result, this may become a problem, and we have frequently heard of this happening. 
Although not every agency experiences such communication issues, it is something to be aware of and questions you should ask throughout the sales stage.
Not as much brand knowledge
No one will know your company's history, vision, goals, messaging, and goods better than your staff, especially those who have worked with you for a while. They will have the skills necessary to produce content that reflects the voice and mission of your business while also assisting potential clients in their problem-solving.
But managing your company's voice gets difficult when you outsource business content. The consumer experience will be hampered by any inconsistencies in brand messaging and positioning; therefore, it's critical that anybody you outsource understands your brand.
The best way to manage this is through a solid client onboarding process. During this procedure, concerns and questions can be addressed, setting expectations and educating content producers on the positioning and messaging of the brand.
Set Expectations
As it is a usual fact, some companies don't define their expectations clearly. Your company should take its time before considering and committing to a white label partnership. Knowing what is being discussed for your business will assist you in understanding what you are getting into.
While a white label SEO company will establish its conditions, it's crucial that you do the same as a reseller. If clear expectations are not established, problems may arise in the future. These problems could be the way the strategy plays out, the conduct in which the relationship is held, or the pricing of what you agreed upon. For you to know what you're getting into, it's important to set expectations for and about your business.
You're not their only client
It's essential to remember that firms have other clients. It's not just you to who they provide support. This means that you might sometimes get a delayed response – but stick with it, and they will get back to you as soon as they can. Sometimes these delays are a result of them trying to get things right for you.  
On the other hand, your company comes first for the internal content team. This means they'll be entirely focused on producing your business content, and they'll make sure everything is done to the highest possible standard. But make sure they do not become too busy to pay attention to your queries.
Quality control
The most essential challenge of white label services is quality control. Many times solutions offered by them are not sufficient and practical as they do not resolve the concerned problem. In such cases, the customers are not satisfied. Therefore while partnering with the service providers, evaluate their portfolios along with case studies they have done so far.
Make sure you consult the white label partner about their techniques to see whether their SEO strategies will work and produce outcomes.
Workflow Management
SEO campaigns are infamous for having thousands of tiny little pieces, and there are just so many activities that need to be taken into consideration. SEO is a detailed process, and it needs to be properly recorded and coordinated, but each provider has a unique method for running their business and executing their strategy.
Ensure your chosen provider can deliver the required procedure and outcomes your company needs. Both onsite and offsite work should be considered, and that's why finding a business with the experience and knowledge about what they're doing is crucial for SEO. If you look for a firm that is unable to fulfill the above-mentioned criteria, this may result in your company's strategy being less effective than your competition's.
New trends and updates
SEO services are an ever-evolving and ever-changing industry. Old ideas and concepts don't always produce results. If you are dealing with a white label SEO provider that does not evolve with time and is not embracing new challenges, it might not be a good fit for your business. You can regularly check the white label SEO services and recheck the outcomes they are delivering to your clients.
To ensure that their SEO tactics will be effective and provide results, you should ask the white label partner to showcase their updated techniques and methods.
What Should You Look For in a White Label SEO Provider?
While each white label SEO agency has its own set of specialised services and methods, the process is fairly consistent across the board. However, there are several things to look for in a partnership in order to maximise its success.
Sales Support
You should ensure that your provider assists you at every step of the way. Finding someone that is prepared to implement the best SEO strategies on your website is one of the main challenges many businesses face.
How can you ensure that the sale is closed once you've found a qualified lead? Your partner should be able to explain the sales procedure to you and then provide sales assistance to help you close the deal. Sales support acts as an extension of your sales team. 
If you require help explaining the SEO procedure or just want an arm of your sales team still working under your business, you just connect a potential customer with the sales support team, who will then guide your client through the process. They will outline the complete SEO procedure, as well as the various packages and pricing options that you provide to your consumers.
White hat SEO techniques
There isn't a shortcut to success, as you may have heard. In the world of SEO, the same is true. Black hat SEO tactics and other shortcuts could offer quick results, but they will ultimately haunt your customers.
These methods are prohibited by search engines and could incur penalties if used. This can damage the reputation you've developed with your client over time. As a result, you need to collaborate with a partner who exclusively uses white-hat SEO strategies.
Long-Term Strategy
Make certain that the SEO service provider you choose handles client campaigns in a customised and thoughtful manner. You want to be sure that they have a good strategy which they have been working on for a while and that will benefit your clients. Also, ensure that they have the required expertise and not just exceptional marketing to sell their service. 
Experienced SEO agencies have teams of specialists who keep an eye on algorithm updates and changes that can have an influence on your clients. You want to confirm that they are capable of handling changes to the search algorithm and are aware of how to adjust their approach to avoid being negatively impacted.
Ask for details about their SEO process, what goes into every partnership, how they'll handle your clients and documentation that shows they can handle the kinds of clients you serve.
Dedicated white labeling team
Ensure you have a dedicated white labeling SEO team whom you can get in touch with frequently to discuss your clients and their campaigns. This is perhaps one of the most crucial elements to consider when deciding which provider to partner with. These people will be your primary points of contact; thus, it's important that they are fully aware of your brand, your customers, and your industry. Before even signing the contract, get to know them well to ensure it is a good creditable fit!
Reliable Metrics and Reporting
For every service you ever receive in life, you want to ensure that they are done correctly. And how exactly do you do that? With documentation. In the end, you want to be able to see the work that was done, how much each item cost, and the outcomes.
In the world of SEO, this is done through a dashboard and tools that keep track of the SEO tasks performed. You also want to take advantage of Google Search Central and Google Analytics to ensure that your website experiences growth through the help of the SEO efforts performed. Also, ensure that your white label SEO provider has a transparent reporting dashboard for all your customer campaigns.
Scalability
Collaborating with an agency must be scalable based on your growth expectations and the capacity of your partner to scale and handle that expansion with its own infrastructure. 
Scalability is certainly not going to be a problem if your business is small and you only need a partner who can handle SEO for a few clients at once. Scalability, on the other hand, enters the picture when you run a bigger agency and require a partner to take on several clients at once. Ensure that the SEO reseller you are thinking about can scale in accordance with your expectations and goals.
Transparency
White label partners should be open and honest about every step of the project execution process. The code and content suggestions for site pages, blog articles, backlink/link-building activities, and anything else essential to your SEO campaigns should all be reviewed and approved by you and your clients.
Be aware of SEO agencies that are unwilling to be completely transparent about their project details. This should be a major red flag and an immediate rejection because they're probably not acting ethically and may end up harming your clients more than helping them.
Customer Relationship Management (CRM)
White label SEO providers should have a CRM set up that offers their partners and their clients a platform where they can routinely communicate and source reports and deliverables.
When choosing potential reseller partners, be sure to inquire about their capacity to provide a white labelled CRM that can be utilised as a part of the engagement since this will be the official place for all communication and work. Alternatively, you can always use your own CRM if you already have one in place.
What will include in the SEO White label program
The answer depends since it varies for each software, but essentially, it is the same. These SEO tasks may involve:
SEO audit:
SEO auditing is the process of analysing how well your web presence aligns with best SEO practices; it is the first step in developing an implementation plan that will have measurable outcomes.
On-page SEO:
On-page SEO is the process of making all the components of your client's website optimised for search engines and organic search results as well as users. This includes analysing components that will make it simple for search engines to crawl and index the website, such as images, text, content, error pages, and other features.
Off-page SEO:
Off-page SEO refers to optimization techniques that can help you rank higher in search engine results pages (SERPs). These techniques, on the other hand, take place outside of your website and include attracting links from other websites. 
Monthly Statistical Reports:
A white label SEO business will offer monthly statistics reports that demonstrate the online performance of your client's websites. These reports enable you to evaluate the success of the online marketing strategy and identify areas for improvement.
Local SEO:
Local SEO is used by companies that want to rank locally or in a specific area. It is similar to typical SEO activities but is focused on a particular area and local market.
Keyword research and optimisation:
SEO experts will perform an in-depth analysis of the website and keyword research that are designed to attract potential traffic and eventually convert them into clients.
Lead tracking:
Enhances your ability to track leads coming from various sources and takes your customers closer to your brand.
Other services include:
SEO audits

On-site optimisations

Content optimisations

Blog writing

Link Building

Metadata improvements

Analytical tools

Reporting
Final thoughts
When you choose a White Label SEO provider to enhance your digital marketing options, you should follow a good selection procedure and take a systematic approach to choose the best agency for the task.
Once you've chosen the most appropriate White Label SEO Agency to work with you on the projects for your clients, you now have an incredibly effective tool that you can use right away. With such a tool, you can consistently provide the best SEO services that produce results without draining your resources or skills.
So What is stopping you? Join us as the "best white label digital marketing agency" that suits your business needs and you can touch skyscrapers! Call or Contact us at:+91-9825492807 or [email protected].
Infographic
(Click on Infographic to enlarge) 
Share this Image On Your Site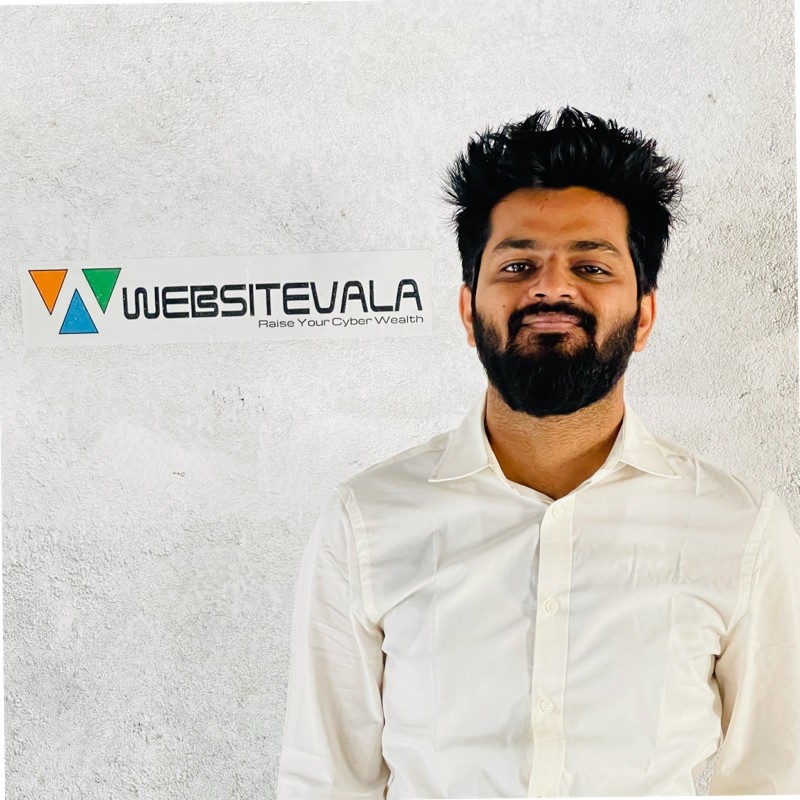 As a digital marketer, SEO lecturer and WordPress developer I support other freelancers and businesses with their websites from helping with the design and blog posts to optimizing them for search engines. I'm the founder of Websitevala and support successful digital marketing companies like ClickDo as a virtual assistant.