Landing pages play an essential role in the growth of digital marketing campaigns. They must be optimised for maximum conversions because they are frequently the first point of contact between a company and potential clients. Landing page optimisation includes a series of tactics and processes designed to enhance the customer experience and increase the likelihood of conversion. Here are some landing page optimisation checklist for website.
In this guide, we will look at landing page optimisation tips, best practices, and techniques for optimising landing pages. By following these best business practices and tips, you can create landing pages that are optimised for conversion and ultimately accelerate the success of your digital marketing campaigns.
What is a landing page in SEO?
SEO landing pages are ones that have been built to appeal to search engine algorithms, which determine whether or not a page will be beneficial to visitors. Landing pages are a crucial aspect of SEO because they impact the user's experience, and therefore, play a significant role in determining the search engine ranking of a website.
To optimize your landing page for search engines, it's important to focus on SEO tips for landing pages.
Additionally, make sure that your landing page loads quickly and is responsive to mobile devices because these aspects can affect how well it ranks in search engine results.
When to use a landing page?
There are various ways to use a landing page:
When you want to direct users to a customised, relevant, targeted page.

To advertise your free eBook or guide.

To encourage users to subscribe to your newsletter.

To promote your event.

To promote a new product or service.
Regardless of the offerings or purpose behind your landing pages, your target audience can arrive at them in multiple ways:
A Google ad (PPC)

Search engine results

CTAs on your blog or website

A link in an email

Social media advertisement
You need a well-optimised landing page to convert users successfully on your page.
What is landing page optimisation?
Landing page optimisation refers to improving the performance of a web page that a user "lands" on after clicking on a search engine result, online advertisement, email campaign, or another digital marketing initiative.
The ultimate aim of landing page optimisation is to design a page that converts visitors into leads or customers as well as attracts new visitors. Businesses can improve their overall online performance and the ROI of their marketing operations by improving their landing pages.
Bonus
View this post on Instagram
How to increase conversion for a landing page
1. Make your landing page visually attractive
Visitors glance within seconds to determine whether they'll remain on a page. For this reason, it's essential to include multimedia elements to bring vitality to your landing pages.
However, remember to elevate the visual appeal without going overboard. Prefer a sleek, clean design over a page with excessive embellishments.
2. Perform A/B Testing
If you want to create a perfect landing page, A/B testing is a must. A/B testing of the landing page refers to comparing various versions of your page with slight variations.
This process helps determine what would appeal to visitors the most and raises conversion rates. You may test your landing pages to ensure that your call to action is strong, the graphics you use are appropriate and appealing, the links and buttons are functional, and many other things.
3. Ensure you're speaking to your target audience
Modern clients expect customised messaging that addresses their particular needs and desires. Thus, a lack of personalisation can result in a low conversion rate even with an aesthetically pleasing landing page. Ensure that each landing page serves its purpose – if you have specific pages for each campaign, buyer persona, or channel, customise the content accordingly.
For example: If you are selling a leading CRM platform to sales representatives and marketers, it's essential to use a separate landing page for each audience. By doing so, you will be able to discuss the various features, advantages, and pain points that affect that specific visitor.
4. Use directional cues
A landing page is generally viewed from top to bottom. However, a page will often have various features, such as headers, text, images, graphs, tables and charts. To define clearly where the reader should focus their attention next, use directional arrows or an image of an individual staring directly at the CTA.
It sounds obvious, but you'd be surprised to know that directional cues significantly enhance the flow and direct more readers towards the important call-to-action.
5. Use social proof
Including social proof, such as customer testimonials, trust symbols and reviews, can assist in building credibility and boost conversion rates on a landing page. According to "social proof," customers are more likely to believe in a product or service if others have had an excellent experience using it.
Additionally, by including social proof on the landing page, you can showcase the credibility and value of the goods and services and increase conversion rates.
6. Make your landing pages shorter
Unlike traditional landing pages that tend to be lengthy and loaded with content, successful landing pages are precise and short. It's a proven fact among digital marketing experts that short landing pages perform better and assist in gaining more leads.
Create landing pages that can be easily scrolled in just a couple of scrolls. This way, you can effectively communicate the benefits of your service or product without overwhelming your visitors with excessive information.
7. Making your offer clear
Making your offer clear is an effective way to increase your landing page conversions. Therefore you must create a concise and clear title that describes your offer and how it can help the reader.
8. Remove all navigation
Eliminating navigation from landing pages is an essential consideration for optimising conversion rates since navigations act as a distraction that takes visitors away from the page's main objective. A landing page aims to convert visitors into leads or clients by offering them a clear call to action. By removing navigations, you can ensure that the visitors' attention is only on the action you want them to take and make a purchase.
Presenting visitors with various navigation options on your website can decrease the sense of urgency, potentially leading to a lower conversion rate of visitors into leads. By offering too many choices, a visitor may become less inclined to take immediate action and instead lose interest in your proposition.
9. Use the scarcity technique
Using scarcity methods can be an effective way of increasing conversions on your landing page. One way you can do this is by creating a sense of urgency by providing a limited-time special promotion or discount. This encourages users to act quickly to avail of the offer before it expires. 
10. Keep the important part above the fold
The term "above the fold" traces back to the newspaper. To encourage readers to buy the paper after seeing the headlines, the most attractive stories were published on the front page, above the standard newspaper fold.
You can achieve the same result by keeping the elements of your landing page above the digital fold, or the point beyond which a user must scroll to see additional details. Now that more people are utilising smartphones and tablets, this is more challenging than ever.
The good news is that you can use a scroll map to quickly determine where the average fold appears on various devices while still keeping your headline, a few sentences of body copy, and a CTA in the centre of the screen.
11. Add contact information
There are various methods for providing contact information to website visitors, such as displaying a phone number or email address on the landing page, utilising a contact form, or offering links to a help centre like Shopify does. Many customers have come to expect that they can access not only contact information but also answers to common inquiries and educational resources through a help centre.
12. Optimise your landing page for SEO
Typically, individuals discover landing pages through organic search, and in some cases, your home page may serve as your landing page, meaning it should appear in search results if someone searches for your company's name. Optimize your landing page for SEO also includes the following:
Optimise for mobile devices
The key to optimising a landing page is to make it mobile-user friendly. It is vital to ensure that the landing page offers a fantastic user experience on these devices because more and more customers are accessing the web on mobile devices. To accomplish this, it is crucial to have a responsive design that automatically adapts the layout and content to fit the screen size of the device being used. The layout should be simple and clean, with minimal distractions and clear calls-to-action (CTAs) to increase the conversion rate.
Improve your page load speed
Your landing page needs to load quickly. Slow page loads result in lost leads and money in a world where decisions are made immediately. Before using any of your images—typically JPEGs and PNGs—on your landing pages, be sure they have all been compressed to maximise page load speed. Thanks to the automatic image compression features offered by modern landing page builders, you don't have to worry about the image size or spend extra time manually compressing images.
What are the tools for optimising landing pages?
Here is the list A few tools for optimising landing pages
Unbounce:
It is a landing page builder with A/B testing capabilities and drag-and-drop functionality to optimise conversions.
Google Analytics:
Google Analytics is a web analytics tool that offers information on traffic sources and user behaviour, which can be used to optimise landing page performance.
Hotjar:
It is a tool that provides heatmaps, session records, and user feedback to give you information about how people utilise your landing page.
Crazy Egg:
Crazy Egg is a tool for visual analytics that provides heatmaps, scroll maps, and click maps to help businesses better analyse the target audience and adjust their landing page.
Landing page optimisation tools can assist companies in improving the layout, design, and messaging of their landing pages to boost conversion rates. With these tools, companies can split-test several iterations of their landing pages, examine user behaviour, and monitor the effectiveness of their campaigns in real time.
By utilising these tools, companies can constantly improve their landing pages and drive more conversions, resulting in more revenue and expansion. In short, optimising landing page tools are essential because they offer companies the capacity to develop high-converting landing pages, which is essential for the success of any online advertising campaign.
Final thoughts: Landing Page Optimisation Tips
Optimising your landing page is essential for boosting website conversion, keeping audiences engaged with your messaging, and generating leads. In addition to improving user experience, high-converting landing pages significantly reduce customer acquisition costs and guarantee that you get the most out of your advertising campaigns. Do you like landing page optimisation tips?
After going through the above best practices now it's time to improve your landing page so you can generate more leads and sales. Websitevala can certainly help you to achieve your targets, Contact us at +91-9825492807 or [email protected]
Infographic
(Click on Infographic to enlarge) 
Share this Image On Your Site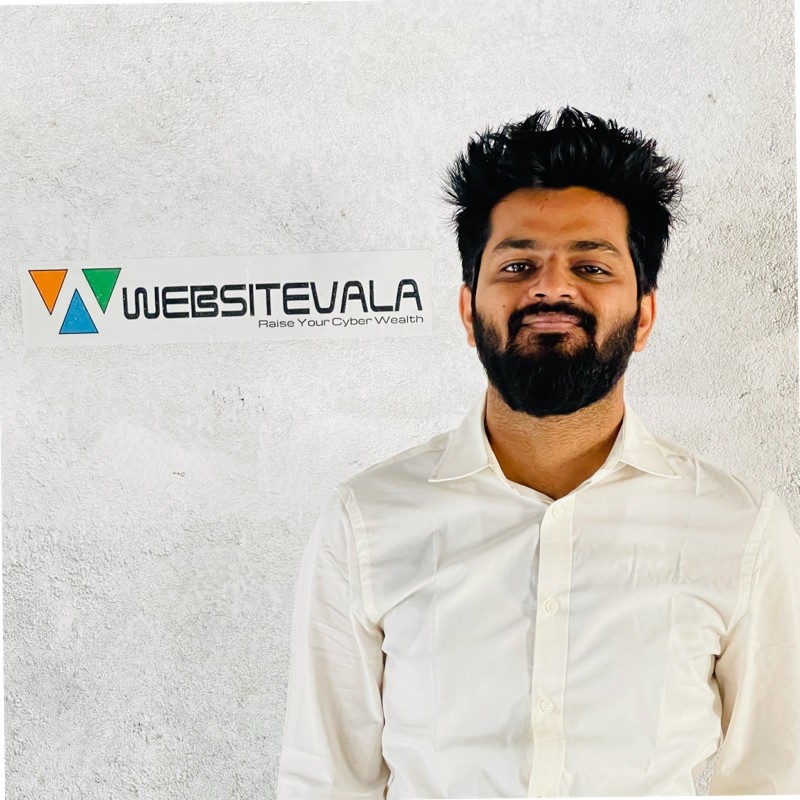 As a digital marketer, SEO lecturer and WordPress developer I support other freelancers and businesses with their websites from helping with the design and blog posts to optimizing them for search engines. I'm the founder of Websitevala and support successful digital marketing companies like ClickDo as a virtual assistant.